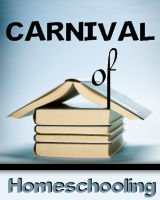 Corn and Oil will be hosting the Carnival of Homeschooling this week. It's not too late. There are still a few hours left.  Please take a minute and submit a post for the coming week's Carnival. 
Title of Post
URL of Post
Name of Blog
URL of Blog
Brief summary of the post
(With "carnival" or "submission" in the subject field of the email.)You can also send in a submission via 
Blog Carnival
 by 
going here
.
For more information about the Carnival of Homeschooling, visit
here
.