Welcome to the Carnival of Homeschooling for Those Considering Homeschooling
And anyone else who would like to read the current Carnival of Homeschooling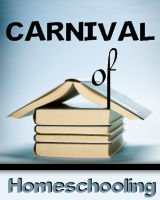 It's the middle of the school year. Unfortunately, there's been one more bullying incident on the bus.  The principal says his hands are tied, and maybe you'd consider driving your child to school (10 miles away).  During those desperate times, you've considered homeschooling. 
After all, this double decker looks more appealing than that yellow one. 
 Traveling schedule freedoms are one definite appeal to homeschooling.
Look at what Tonya and her family are doing in Live the Adventure.  They saw one of our national treasures and expanded on it.
Read more in Statue of Liberty: Extending our Travels into our Classroom.   While you're doing all that hands-on geography, it wouldn't hurt to be Making Map Folders , as posted at Everything Home…with Carol. 
But gee whiz….homeschoolers are a little weird, aren't they? 
What about Socialization?
Mrs. White explained How My Children Learned Social Skills at The Legacy of Home.  Makes sense to me, and seems to have worked for them.
Tricia is a 5 month long homeschooler and she can relate to concerns as shown in her post: What, me homeschool? on her blog: Home School MamaMi
Jen at jensmiles can help out a bit by explaining Why We Homeschool. Episode 1.  They took their children out around the same time we took ours out.  As Jen says, each families' reasons to homeschool are complex, but their problem was the intellectual challenge – or lack there of –.
Our problem was all that socializing with the bully on the bus. We definitely considered the idea of Socialization: Quality or Quantity? that was posted at Marine Corps Nomads. 
Cristina wrote up a fascinating post about Harpo Marx's autobiography and his young school days of being bullied.  He opted out of the school system and found a wonderful world of unschooling. Read more at at Home Spun Juggling in the post: Happiness is a Warm Harp.
One website that I always direct interested or new homeschooling families is Lillian Jones' Best Homeschooling.  Food for thought is provided in abundance.  More advice is passed on from the Peace Creek Prairie blog.  Betty suggests that you guard your wallet as you see the latest and greatest in homeschooling supplies. Read more in her post:   If It Works, Don't Change It–When not to browse the homeschool reviews… 
But many ask,  What Do You Do Every Day? It was shared by Laura Grace Weldon that, "It's reassuring to get a glimpse into how other homeschoolers compose their days together". 
Indeed it is.  
Look at what was in Tuesday's Toolbox posted at Homeschooling Hearts and Minds.  They start learning while they're eating their cereal. Cereal box reading is a time-honored tradition that receives the proper leisurely perusal while homeschooling. 
Amy at Hope Is the Word posted Katy and the Big Snow::Lapbook and Related Activities saying, "This is a concluding post about activities and learning we did based on the book Katy and the Big Snow."
What is better than curling up on a cold, snowy day with a good book?  Gary Davis offers Newbery and other Book awards for 2010 posted at HomeSchoolBuzz.com, saying, "The American Library Association announced it's 2010 literary award winners. We compiled a list of the books for you to peruse."
You can take advantage of the 21 Best Must-Bookmark Sites for Colouring Pages for your artist types that are posted at Practical Homeschooling.
Or you can study the Lakota Winter Counts that was posted at The Informed Parent by Mary Nix.
How about Building the Alphabet One Letter at a Time, as posted by the Texas Homesteader
Another wonderful aspect of homeschooling is the support you'll receive from other homeschoolers. 
We're a tiny minority, but we've created and enjoy the supportive benefits of networking; whether it's from the internet, phone or face to face connections.  This Carnival is one example. Look at the "Favorite resources this homeschooling mom to seven has used for teaching grammar, punctuation, and other language arts skills over the years." Check out Teaching Grammar and Punctuation in The Common Room that is posted at The Common Room.
All, while remembering the gentle reminder of 8 Ways Not to Say No that was posted in Minds in Bloom
We learn how to be frugal, and often find resources that give the most while costing the least.
Melanie shared Our Saxon Story, Part Two (or) Another Book Giveaway posted at Four Squares, saying, "This is an update to a previous post in which I describe our family's experience with Saxon math."
 Let's play math! posted Free Books? What's the Catch?  Denise says that: "Over the past 12 months, I've collected $45 worth of free books… I bought a couple of Christmas gifts and an Ed Zaccaro book to supplement Kitten's math curriculum."
Homeschoolers are well known in the used book markets as good customers.  One of our favorite sites is the Paperback Swap.  Homeschoolers can be green that way.
 Yeah…yeah…but What about Socialization?!
Doesn't homeschooling make kids quirky?  (Yes, you will be asked about socialization relentlessly.) Lori offers some insights into The Great Debate – Socialization for Homeschoolers that is posted at Loving Learning at Home.
Alasandra at Alasandra's Homeschool Blog Awards definitely has a point of view about Another Illiberal View About Homeschoolers.  Northwestern University law professor, K. Yuracko, must think homeschoolers live in a cave.  Alasandra says : "I am just glad we live in a country where we are free to make the CHOICES that are right for our individual families and not in a country where THE GOVERNMENT tells you what to think. Ms. Yuracko has no business using the government to ram her "sexist" beliefs down other women's throats."
I say: Amen, sister! That's one of the reasons we homeschool. We're trying to "check rampant forms of sexism".
So is homeschooling really legal?
How's this learning fun that's based at home legitimate ?!   Jenny wrote up her adventure in Tag, you're truant!  at  Home is Where You Start From  She said: "The visit rattled me at first because we were in the middle of transitioning into a private umbrella school, but turned quickly into annoyance after being fed incorrect information by the officer.  All ended well, because I knew the schooling laws in our state."
Shhh…it's a big secret, but you're in on it now.  Families not in the public school mainstream often know school laws better than school authorities. Homeschooling is legal in every single one of our country's states.   Every state has different laws pertaining to home education or private education.  Some are good laws –  as in minimal.  A few states have restrictive regulations that are more limiting to family educational freedoms. 
What's important about this freedom?  There is nothing that shows my home state of Illinois, with our educational free will intact, suffers from inferior homeschooling results.  The same is true of other states like Texas, Oklahoma, Alaska….do you know of other free learning states?  Please feel free to list them in comments.
Last week, letters were sent out to Illinois Primary candidates asking about their views on home education.  We've received 9 responses so far.  The nine were supportive,  including a state Representative who has been nose to nose with the Illinois Education Association.  (The IEA doesn't have warm fuzzies for homeschoolers, but you don't have to join the union to homeschool.)
But how can you be around your children all day, every day?
Some days you're stretched to the max and tired and cranky.  But many in this Carnival, including Renae of Life Nurturing Education, have explained the joys of time in watching your children mature every day and keeping the "smiles and laughter lingering". Read Renae's My Homeschool To Do List
What about extra-curricular activities?
Oh me, oh my- that's not a problem.  The YMCA and city park districts have bountiful community sports activities. 
Pamela of the Blah, Blah, Blog posted her perspective on sports in her family in Good Sports?
Our boys are now black belts in Tae Kwon Do, and we couldn't have found the time for that and their Korean mentor if we weren't homeschooling.  Homeschoolers have speech clubs, 4-H clubs, science clubs, drama clubs, Lego clubs, chess clubs.  If you build it, they will come.
My child is Special Needs.  How can I do this?
 There are several posts throughout this Carnival that respond to special needs concerns for homeschoolers.  I've found the words of wisdom gained over the years from others have knocked down many a concern about late reading or what have you.  I hope you'll find the same throughout this Carnival and elsewhere in the homeschooling community.  Heather posted about her Life with a twice exceptional child at Special Needs Homeschooling, saying, "This is the up and down journey we have taken so far with my beautiful twice exceptional child!" .
Katherine at No fighting, no biting! points out in her post, Take some initiative! that many homeschoolers "don't just gripe if our gifted or special needs kid's needs are not being met, we seek out and implement the best solution for each one".  
What about High School?
Fellow Illinoisan, and much younger Margy, of Homeschool Highschool, tells teen homeschoolers some tips on writing thank you letters for scholarships. Check it out in How to Say Thank You (: 
Barbara Frank passed along a Bank Safety Project for Teens  at Barbara Frank Online .  Another of the pleasures our family has picked up is what mom and dad have learned along our homeschooling journey.  Barbara points that out in this economy: "Here's a learning project for teens that will help parents too".
Regarding high school and college age kids, there can often be this homeschool advantage that Why Homeschool blogger (and Carnival of Homeschool co-founder) , Janine Cate, pointed out in Really? I'm so shocked!
Linda Dobson posted The Value of Homeschooling Stories, Reed Colfax at PARENT AT THE HELM.  Reed Colfax was homeschooling when it wasn't particularly  cool to be homeschooling.  If you're considering homeschooling, or just getting started – I hope you find reassurance here, that now we have such great support at the click of a mouse or at a local playgroup meeting in the park or the library.  It's a lifestyle that's well worth it in satisfaction for many families.   Thanks for reading and thank you to all the participants for their posts.
Tiffany Holley at As For My House will be hosting next week's Carnival.