Putting together the Carnival of Homeschooling has always been a great pleasure for me. Discovering new blogs always provides more food for thought from our diverse and unique homeschool community. The common theme we have is homeschooling and finding the written word (and images) important enough to blog or record our family journeys as we go. Homeschoolers like to spread our wings and hit the community resources, along with traveling here and there to find great adventures. I've added some places of interest, but please – good readers and contributors – feel free to add comments and other suggestions of your very favorite places to go and people to see.
Let's take a look.
Dual Role Grandma starts us out with her informative links in Space Study & Pawn Stars Have the Right Stuff for Home Education posted at The Retread Parent- Both Sides, Now. Dual Role Grandma and her husband are homeschooling their grandchildren and her post displays one of those beneficial yet serendipitous homeschool moments via TV and movies in learning about the early US space program.
Pamela followed up with more space history in New Mexico posting Chimps in Space at Blah, Blah, Blog.
Mama Squirrel wonders about My catalogue, my friend? (and a bonus frugal link) posted at Dewey's Treehouse.
I would suggest that we all do some searches in the Family History Library Catalog. It's free and we can look for ancestors that just might give up their home education roots.
Kiersten Figurski posted some local art spots in My Favorite Part of Homeschooling! « GrowingFlowers at GrowingFlowers.
Miss Nirvana's little ones made Egg Shell Art masterpieces posted at Nirvana Homeschooling. A certain Russian Tsar had a penchant for fancy eggs like that Clover gem to the right.
Misty discussed How to get your kids to do Their School – Part 3 – Stickers posted at Homeschool Bytes and her use of stickers as a reward.
This reminds me of the Homeschool Bumper Sticker collection here.
Read Aloud Dad presents Why Reading Aloud can be a Puzzling Task for Parents posted at Read Aloud Dad.
Kimberly had some innovative ideas in A Gardening Experiment posted at It Began In Camp 4. She's learning about Montana dirt.
I'd like to point out the oldest continually used experimental agricultural fields in the United States just down the road from us. The Morrow Plots were proclaimed a historic landmark with cause to build the University of Illinois library beneath it to keep it undisturbed.
Amy @ Hope Is the Word had a family field trip to Bull Skull Hollow Village and Wildflower Walk posted at Hope Is the Word. Her links explain the Village history.
Maureen Sklaroff provides wonderful World History Resources for Homeschoolers posted at Homeschool Mo.
Studying Ancient Canaanite Myths is posted at Letters From Nebby and is the second part of her introduction to the study of the myths of Ugarit.
Another homeschooling family was exploring outdoor adventures – Cristina presents Rock Climbing at the Quarry posted at Home Spun Juggling.
Ritsumei shared some great links in her post Awesome Owls at Baby Steps.
ChristineMM shares a critical review of a new book about education reform in her post Faces of Learning Book Review by ChristineMM posted at The Thinking Mother. Christine recommended former NY Teacher of the Year and author John Gatto in her review post, and I'll add his Underground History of American Education to our links collection here.
Following that, Judy Aron suggests that Bagging Bagged Lunch isn't such a great idea, It's posted at Consent Of The Governed.
Sometimes homeschoolers have issues we need to address within our community. Sharee posted Dangerous Minds at her Mother Superior blog.
Denise is also looking for help while Working on My "Let's Play Math!" Books posted at Let's Play Math!.
Linda Dobson was thinking frugal and worked hard to offer one of her excellent books in eBook form. She said: "We're so happy to make this resource affordably available!" Look for more details in her post We Got Her Done! Learning Coach Approach Now Available as eBook | PARENT AT THE HELM posted at PARENT AT THE HELM.
While Linda's book helps us direct our children towards their interests and passions, Janice Campbell asks: "Do you have a child who doesn't seem to be college material? Don't let fear keep you from encouraging him to explore the trades and other college alternatives. The "Daffodils and Diesels" essay will show you why." Read her Of Daffodils and Diesels, Revisited post. It's a thoughtful and good reminder that some of us have budding mechanics and entrepeneurs who do not need college. (This is a timely factor for us as we have a truck in the shop right now, along with a seemingly continuous need for a good mechanic.)
Barbara Frank offered some heedful advice pertaining to When Homeschooled Kids Should (and Shouldn't) Compete in Academic Contests posted at Barbara Frank. The National Geographic Society sponsors the Geography Bee.
Reason #856 to Homeschool: Changed Outlook. It's posted at Homeschool and Etc. and Happy Elf Mom and her family are starting a new educational adventure. She says: "Our son Elf will go to public school starting this week. I think homeschooling changed our outlook for the better." When you know you have a choice with educational pursuits, it often makes a world of difference.
Carleen Galiardo renders help in Assessing Your Homeschool Year at her Evaluation Station Blog!
Carletta is offering a Kindle 3G or one of 18 other prizes if you tell her about your favorite curriculum in the 3rd Annual Homeschool Curriculum Review Contest at Successful Homeschooling. There are many curriculum reviews collected at her site already.
Lisa's post Yet Another Reason to LOVE Homeschooling posted at Golden Grasses will just make you smile. Definitely crafting the extraordinary from the ordinary.
Amy Roller offers her thoughts about caring for others in What about finishing "school" work? posted at Home School Dad.
Melanie Antonacci asks Do You Suffer From Brick Wall Syndrome? She offers great suggestions to scale over that wall that we homeschoolers face occasionally. It's posted at A New Day in My Father's World.
While living and learning with our families, we often have too much on our plate and our heads don't find enough time on the pillow. Carol Alexander wonders – Are You Sick, Or Are You Tired? posted at Everything Home…with Carol.
Heather Laurie lays out the problems her family is contending with now in her post: All families struggle, right now it's our turn. It's posted at Special Needs Homeschooling.
Christine Guest had a happy observation in her post – And they were still Behaving after my Break posted at Our Curious Home.
Sometimes, perfect tidbits of enlightenment are passed along by homeschoolers like Gina Danaher in her time with The Visiting Professor. She posted her eye opener at The Women In My Life. The eyes were opened for the Professor, not us, since we already have the homeschooling life and successes figured out. As Pat Farenga asks: Sweden Bans Homeschooling: What would Pippi Longstocking say? Here's a little excerpt from Pippi Goes to School
PIPPI: You know what? It was lots of fun to come to school to find out what it's like. But I don't think I want to come anymore—Christmas vacation or no Christmas vacation. There are altogether too many apples and ibexes and snakes and things like that. It makes me dizzy in the head. I hope you won't be upset, Teacher.

TEACHER: I certainly am upset, Pippi, but I'm upset that you won't behave properly! Any child who acts as badly as you do wouldn't be allowed to come to school no matter how much she wanted to!

PIPPI: (astonished, almost starting to cry) Have I behaved badly? Goodness, I didn't know that. You understand, Teacher, don't you, that when you have a mother who's an angel in Heaven and a father who's a cannibal king, you don't know just how to behave in school, with all the apples and ibexes.

TEACHER: (calming down) I understand, Pippi. I'm not annoyed anymore. Maybe you can come back to school when you're a little older.

PIPPI: (happily) I think you are awfully nice, Teacher. And here is something for you.

NARRATOR 1: Pippi took from her pocket a lovely gold watch.

TEACHER: Pippi, I can't possibly accept such a valuable gift!

PIPPI: But you have to take it! Otherwise, I'll come back tomorrow, and you wouldn't like that, would you?

NARRATOR 2: Then Pippi rushed out to the schoolyard and jumped on her horse. All the children waved goodby.

PIPPI: (waving and riding off) So long, kids. I won't be back for awhile. But always remember how many apples Axel had—or you'll be sorry!
Pippi would have appreciated this post from Jamie on How to Make Your Children's INTERESTS Part of Your Curriculum – Blogs – Parent Community and Forum. It's posted at Homeschool Online.
DeputyHeadmistress overcame the The Homeschool HighSchool Panic Dance that she posted at The Common Room. She's content in settling for that room to grow while watching her children mature.
"thatmom" Karen Campbell leaves us with the notion of minimalist influence: homeschooling. Karen posts at thatmom ~ real encouragement for real homeschooling moms and her years of homeschooling have provided some observations that serve our community well.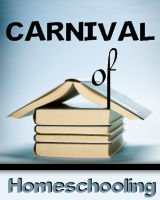 Thanks to all for their submissions. Thanks to the Cate family for keeping the Carnival of Homeschooling moving along as all who have hosted know that Henry has a great deal of follow-up and preparation to keep this moving smoothly.
The next Carnival of Homeschooling will be hosted at Home School Dad.